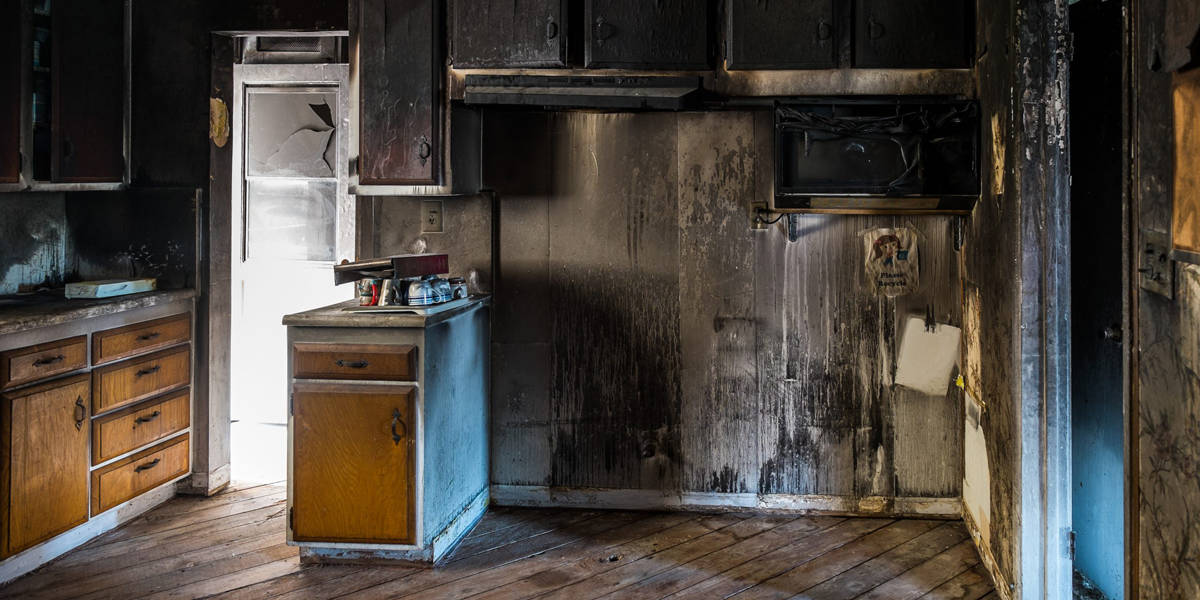 Fire & Smoke Damage Restoration Service in Manitoba
At Priority Restoration, we understand that life is busy and complicated. When you add the stress of fire damage to your home or business, everything can seem very overwhelming. Let Priority Restoration help you get your life, home and business back to normal.
A fire in a house or business is one of the most traumatic incidents that can happen to a property owner. During this time, it is important not to underestimate how fire and smoke can adversely affect a building in many ways, including structural damage and smoke odours. Even in the case of a small kitchen fire, it becomes easy to assume that smoke only affected the kitchen area and the stove. However, smoke is invasive and can dissipate quickly into other rooms and building materials. This means you can find soot and odours within HVAC vents, under light fixtures and often behind walls.
It's important to rely on the expertise of Priority Restoration to complete an assessment of the fire damage to ensure that your health and the health of your family is not at risk.
In these situations, it's important to rely on the expertise of Priority Restoration to complete an assessment of the fire damage to ensure that your health and the health of your family is not at risk. Whether it be a small electrical fire or a total fire loss, our team of trained Project Managers and Technicians has the technical know-how to effectively identify the extent of damage and implement solutions to restore your property to pre-loss condition.
Sustaining a fire to a home or business affects not only the use of your building, but the contents stored within as well. Important documents, treasured photo albums, or family heirlooms can all be adversely affected by fire, smoke, or water damage. Items once thought to be lost forever may be restored and returned to pre-loss condition with the expertise of our Contents Restoration Department. Let Priority be your restoration contractor of choice and give you comfort and peace of mind while we repair your home, business and possessions.
Why Choose Priority Restoration for Fire Restoration?
Priority Restoration is a preferred contractor for over 30 insurance companies and offers the most comprehensive insurance restoration for properties affected by fire and smoke. At Priority Restoration, our team of trained Project Managers and Technicians have exceptional technical knowledge and adheres to
IICRC
standards for assisting in fire and smoke restoration, smoke damage and odour control. There are multiple benefits to you and your home or business when choosing our fire restoration services:
24-hour Emergency Service
If you have experienced fire or smoke damage to your home or business, our team is ready to go the moment you need us. You can call our 24-hour emergency service line at 204-900-5769 to set up an appointment with one of our Project Managers. For non-urgent requests, send us an email.
Ongoing Communication
We keep the lines of communication open between you and your insurance provider so that all parties are informed of each and every step of the fire and smoke restoration process.
Certified with State-of-the-art Equipment
With over 35 years of disaster recovery experience, Priority Restoration Project Managers have the right training, experience and advanced cleaning equipment to restore your property if you have had fire or smoke damage.
If you would like to schedule a fire or smoke damage assessment for your home or business within Winnipeg and the surrounding area, call us at 204-900-5769.
Frequently Asked Questions
What does a Restoration Company do?
Restoration Companies are first responders to property damages caused by floods, fires, sewer back ups or mould. Our job is provide fast emergency response to mitigate the loss and provide you & your Insurance Company a scope of repairs.
I have experienced fire damage to my home/business, what should I do first?
Many Insurance Companies have after-hour claims services lines. Call your insurance Provider to discuss coverage, deductibles & coverage limits, then call Priority Restoration 204-786-3344 to start Emergency Services.
What do I do if my Emergency occurred in the evening or on the weekend?
Call us on our 24-hour Emergency line -204-786-3344, your call will be answered by our after-hours answering service and dispatched to the on-call Project Manager.
What role does Priority Restoration play in my Insurance claim?
Priority Restoration is a Preferred Vendor for over 30 Insurance Companies in Manitoba. Your Insurance Company has already pre-screened & vetted us to be a trusted contractor of choice. This will ensure prompt professional service to their clients (that's you) and prevent further damage.
Priority Restoration will work with you & your Insurance Company to execute the mitigation & repairs to your property.
How quickly will someone be at my home or business to compete an inspection of the damages?
A Project Manager will contact you to arrange a time that is convenient for you to meet at your home/business and determine if Emergency Services are required. If your answer is ASAP, we will be at your home within 1 hour unless your property is located outside of Winnipeg.
Will Priority Restoration be able to complete all repairs, including restoring or repairing my contents?
Priority Restoration is a full service Restoration Contractor. We have over 35 years of experience completing repairs from mitigation to repairs for all types of losses, including water damage, fire & smoke damage, wind damage & mould damage. We offer the most comprehensive insurance restoration for property and contents, environmental services, and general construction. Our extensive knowledge and experience in these fields makes us a valuable contractor of choice.
Do I need to sign a contract with Priority Restoration?
If the Project Manager determines that emergency mitigation services are required, they will provide you with a work authorization form. This form gives us permission to facilitate the mitigation repairs. As the property owner, you must sign this form approving services to be performed. If coverage has not been confirmed, we will only address the minimum to stabilize your property until coverage is confirmed.
What happens if I do not have enough Insurance Coverage?
Priority Restoration can provide you with a quote for mitigation & reconstruction repairs that are not covered by your Insurance Company.
What can I expect during the emergency mitigation repairs?
Our professional team of technicians will remediate the affected area(s). Depending on the type of damage(s), there could be extraction of water, removal of drywall & flooring, asbestos testing and installation of our drying equipment.
What happens if mould or asbestos is found in my home?
Priority Restoration is an industry-leading contractor in mould remediation and asbestos abatement services for residential, commercial, industrial and institutional clients. Our specially trained Project Managers understand the risks associated with hazardous material and will work with you to develop a plan specific to your property. We will work with your Insurance provider to determine coverage as not all mould or asbestos removal may be covered under your policy.
What kind of products and chemicals will be used in my home?
We make every attempt to use environmentally products. We will notify you if we are using any products that are not safe for people or pets to be in contact with.
My personal items were affected by the damage to my home/business, what will happen to these items?
We have specially trained staff to assess your personal belongings that may have been affected by fire, water or mould.
Any content that cannot be restored at your property will be packed-out and delivered to our 40,000 sq. ft. facility, where our specially trained staff will clean, deodorize  and restore your content . Once all content has been processed it will be stored in our climate-controlled facility until it is ready to be returned.
What happens to those items that cannot be cleaned or repaired?
All content items that are damaged beyond restoration or repair are deemed Non-Restorable. They are left on-site and listed on a Schedule of Loss that is provided to you and your insurance adjuster. Once an item is determined to be non-restorable, we require your authorization as well as your Adjusters to dispose of these items. Any perishable items, such as food items, are listed and disposed of immediately.
Your Insurance company will work with you directly on replacing those items, if applicable.