Priority Restoration provides solutions when you need them most. We have a track record of delivering results, with a commitment to forming long-term relationships with our clients. We take a collaborative approach to building mutually beneficial relationships with all our business partners.
With a diverse team of over 150 of the most well-trained and skilled individuals in the business, we are capable of managing a multitude of projects varying in size, scope, and complexity, at any time.
Our team has a passion for what we do and the clients we serve, with the expertise required to get the job done. We strive to provide the highest level of customer satisfaction through service and innovation, continually seeking methods to add value tailored to our clients.
Priority Restoration offers the most comprehensive insurance restoration for property and contents, environmental services, and general construction. Our extensive knowledge and experience in these fields makes us a valuable choice. We design our approach to specifically meet each client's unique requirements.
Our Priority is You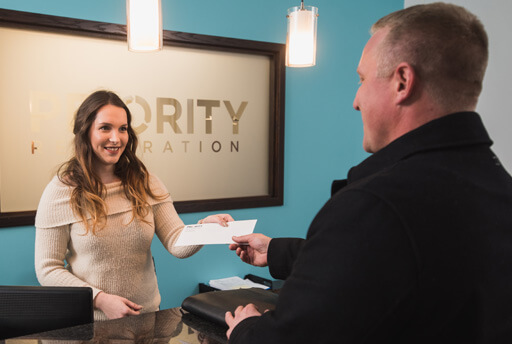 Backed by our guaranteed response time and the quality of the work and service we deliver, our goal is to gain trust from our clients and partners to ensure satisfaction.
Emergency Line
Here when you need us
Response time is crucial to our clients and partners. We have set up a 24-hour emergency line (204.786.3344) that will take you directly to our on-call Project Manager or allow you to leave a message for the next business day.
Estimates
Reports as fast as possible
Our estimate and report turnaround depends on the severity/nature of the claim. We will work with your insurance provider to ensure that these are prepared for you as expediently as possible.
Response Time
Immediate and guaranteed
Our guaranteed response time for initial contact is immediate. Our guaranteed response time for inspection is as soon as an appointment with the insured is available.
Warranty
Made flexible for you
Our standard guarantee or warranty is one year on labour and materials. However, we respond and attend to all client concerns, regardless of the timeframe.
Built To Serve You
We serve the insurance industry, home owners, commercial building owners and property managers