COR™ Certified Restoration Company

We take pride in the safety of our employees and our customers.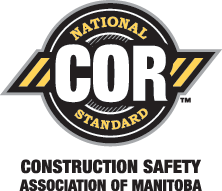 Priority Restoration is a national COR certified firm. The Certificate of Recognition (COR™) Program is an occupational health and safety accreditation program that verifies a fully implemented safety and health program which meets national standards.
The objective of COR™ is to provide industry employers with an effective safety and health management system to reduce incidents, accidents, and injuries, as well as their associated human and financial costs.
COR™ is nationally trademarked and endorsed by participating members of the Canadian Federation of Construction Safety Associations (CFCSA) of which the Construction Safety Association of Manitoba (CSAM) is a member.
CSAM is an "Authority Having Jurisdiction" to grant COR™ in the province of Manitoba. In achieving this national safety program accreditation in Manitoba, CSAM practices the utmost diligence to ensure that COR™ standards are upheld.
Our company safety committee includes a team of individuals that each play a key role in the continued improvement of our company safety program. In addition, we work collectively with organizations such as , Workers Compensation Board (WCB), and Workplace Safety and Health to support us in the sustainment of a robust safety program.