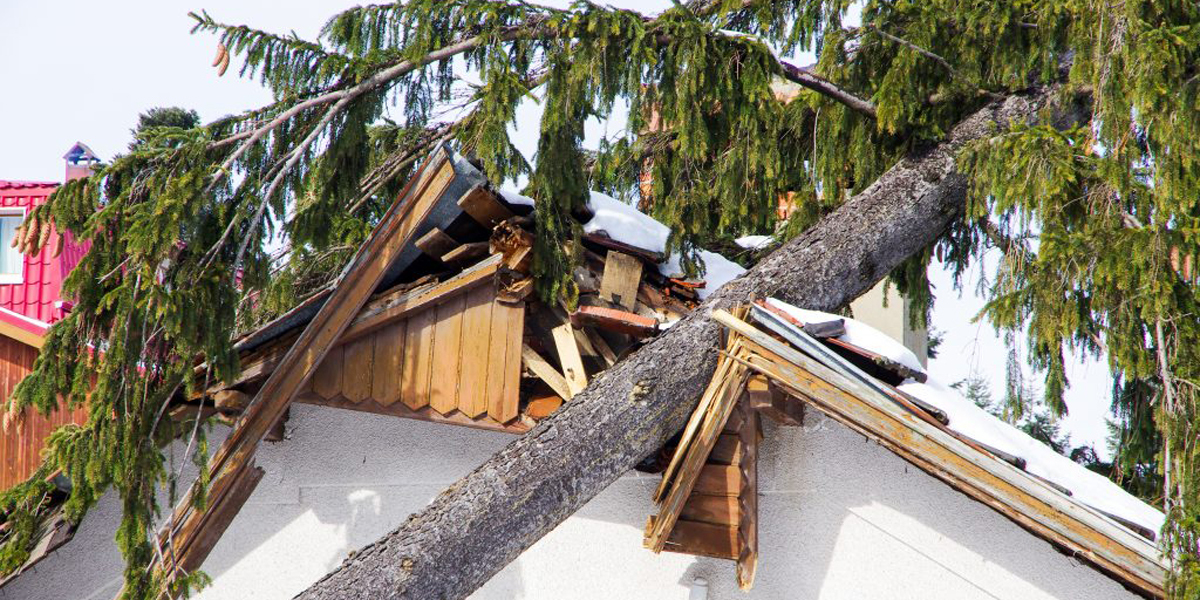 Wind & Storm Damage Restoration Service in Manitoba
Severe wind, hail and thunderstorms can do significant damage to the exterior of your property, including broken windows, missing shingles and damage caused by fallen trees. After a storm, your home may be at risk for further damage. Priority's technical experts will stabilize and minimize further damage to your property and provide the appropriate repair recommendations to ensure your property is brought back to normal.
If your home or business has suffered wind or hail damage, it is essential to have a professional complete a thorough inspection for possible internal & external damages
In many cases damages may not be visible. Our Project Managers are trained to inspect your property for storm and wind damages that may cause:
Rooftop damages and/or missing shingles
Fallen gutters or water build-up and debris
Downspout damages or separation from the home
Structural integrity of the chimney
Interior water damages, cracks, or peels in the wall or ceiling
Window cracks, fog between glass panes and moisture build-up
Interior ceiling discoloration, drips and water spots
Hail damage to exterior of property
Once an inspection of your home or business is complete, we can begin the repair process, which may include:
Emergency Board-up
Heavy rains and winds can cause broken windows and damaged roofs, which can let in rain and snow. This can lead to more damage to your property and its contents. It may be necessary to board up windows and doors to prevent further damage and deter thefts as well.
Structural Integrity
Our expert structural engineers will evaluate sections of your property that are unstable and will install the proper components and leaning structures that will provide temporary stabilization.
Roof Repairs
If your roof is damaged, our roofers will provide temporary roof repairs to eliminate further damage.
Water Extraction
Areas of the property that have been damaged by water need to be remediated quickly to prevent further damage and possible mould growth.
Interior & Exterior Reconstruction Services
The final phase in storm restoration is rebuilding the interior and exterior of your home or business property to its pre-loss condition.
Why Choose Priority Restoration for Wind & Storm Damage Restoration in Manitoba
24-Hour Emergency Service
If you have experienced wind, hail, or other storm damage to your home or business, our team is ready to go the moment you need us. You can call us on our 24-Hour Emergency Service line, 204-786-3344 to set up an appointment with one of our Project Managers. For non-urgent requests send us an email.
On Going Communication
We keep the lines of communication open between you and your insurance provider so that all parties are informed of each and every step of the storm restoration process.
Certified with State-of-the-art Equipment
With over 35 years of experience and over 150 employees, the Priority Restoration team has the expert training and experience to mitigate wind and storm damage to your property.
Frequently Asked Questions
I have experienced wind damage to my home/business, what should I do first?
Many Insurance Companies have after-hour claims services lines. Call your Insurance Provider to discuss coverage, deductibles & coverage limits, then call Priority Restoration 204-786-3344 to start Emergency Services.
What can I expect during the emergency mitigation repairs?
Our professional Team of technicians will remediate the affected area(s). Depending on the type of damage(s), there could be extraction of water, removal of drywall & flooring, asbestos testing and installation of our drying equipment.